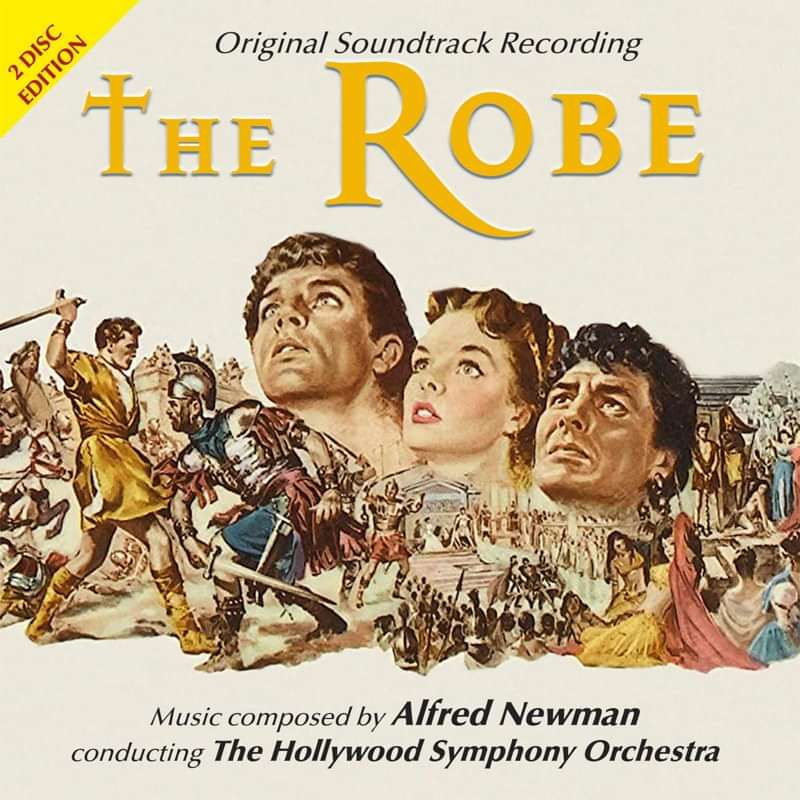 The Robe Original Soundtrack 2CD Version
Alfred Newman (March 17, 1900 – February 17, 1970) was an American composer, arranger, and conductor of film music. From his start as a music prodigy, he came to be regarded as a respected figure in the history of film music. He won nine Academy Awards and was nominated 43 times, contributing to the Newmans being the most nominated Academy Award extended family, with a collective 92 nominations in various music categories.
One of his greatest soundtracks is for The Robe: a 1953 American Biblical epic film that tells the story of a Roman military tribune who commands the unit that is responsible for the Crucifixion of Jesus. The film was released by 20th Century Fox and was the first film released in the widescreen process CinemaScope.
Disc One: Prelude – The Robe | The Slave Market – Entrance of Caligula | Farewell to Diana | Palm Sunday | The Carriage of the Cross – The Crucifixion | Marcellus Returns to Capri | Village of Cana | The Song of the Resurrection | Miriam | The Redemption of Marcellus | Lament for Justice | The Big Fisherman | The Catacombs | The Rescue of Demetrius | The Miracle | The Better Kingdom
Disc Two: The Story of Miriam | Elegy | Marcellus/Redemption | Justus/Death | Aftermath | Hymn for the Dead | In His Service | Audience with Caligula | The Catacombs/Hope | Demetrius/Rescue | The Healing of Demetrius | Marcellus/Farewell | The Chase | Interior Dungeon | Caligula (Extended Version) | Finale/Hallelujah | Bonus Tracks: Palm Sunday Pt 1 (Chorus Only) | Palm Sunday Part II (Orchestra Only) | The Crucifixion (Orchestra Only) | Prelude/Main Title (With Slates) | Marcellus/Redemption (Original Damaged Version)