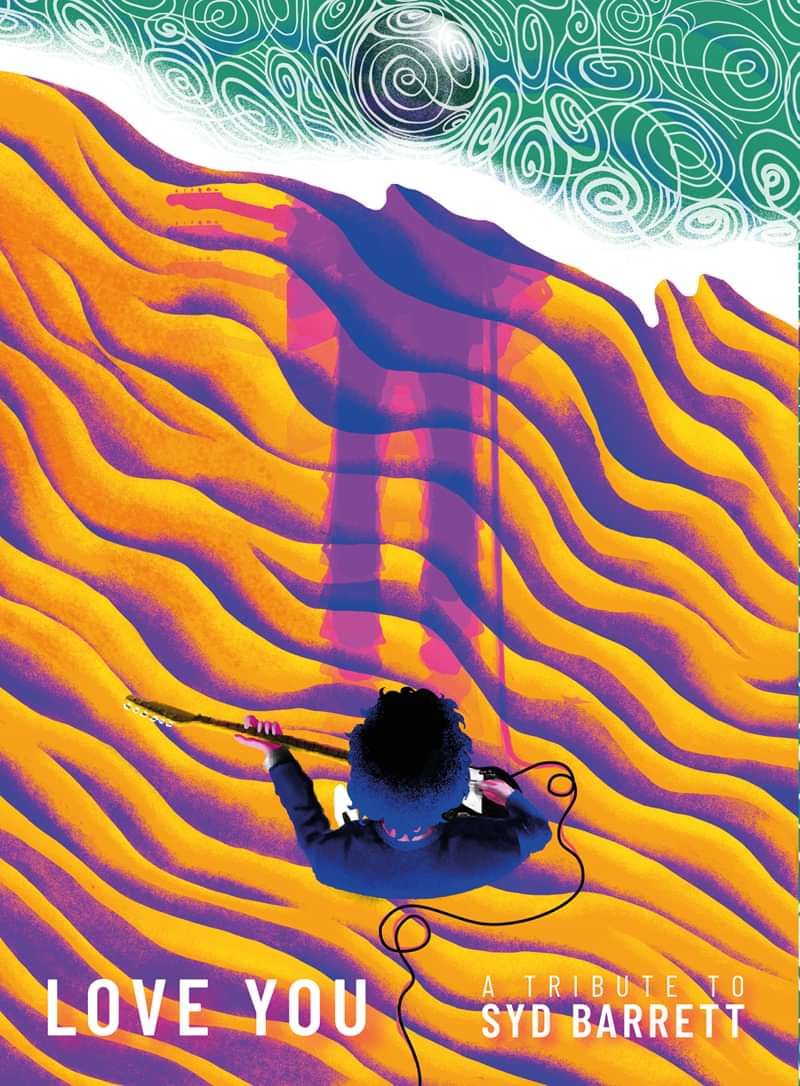 Syd Barrett - Love You 2CD
LOVE YOU – a tribute to SYD BARRETT celebrates 50 years since the release of "The Madcap Laughs" and "Barrett". Our project is to collect, for the first time, all the songs Syd Barrett recorded after his experience with Pink Floyd. To realize it we invited many artists from various parts of the world - Italy, Mexico, France, Ireland, UK, USA, Sweden, Japan, Belgium Germany, The Netherlands - and asked them to choose one song and re-arrange it in their own way.
Among them and without detracting from the others, we would like to mention:
Luca Ferrari: journalist and writer; one of the first in the world to publish fanzines, articles and books about Syd.
Dave Harris: former lead singer of "Fashion" he is well known to Pink Floyd fans thanks to ZEE:IDENTITY, the album he released in 1984 – and recently reprinted - together with Pink Floyd's keyboard player Richard Wright.
John Cavanagh: Voiceover artist, broadcaster, musician, record producer writer and performer. He is the author of the book "The Piper At The Gates Of Dawn" about the making of the first Pink Floyd album. The book has been published in 2003 in UK and then translated in many languages; Italian and Chinese among them.
Men On The Border: Swedish band devoted to Syd's repertoire. In 2016 they took part to "Syd Barrett - A Celebration Concert" at the Corn Exchange in Cambridge.
Boris Savoldelli: a gifted vocal performer who is always challenging his "vocal instrument "with new and original ways of singing.
On the artwork side:
Ian Barrett: Syd's nephew; he is a fine visual artist and Jewellery designer. He creates unique jewels using meteorites, fossils and other rare materials.
Matteo Regattin: author of the beautiful graphic novel "Syd Barrett Jugband Blues. A graphic trip on the tracks of Syd Barrett".
We would like to mention every single musician involved in this tribute, of course. Thanks to their passionate contribution this project has become true.
The double CD box includes two particularly significant bonus tracks too: "Astronomy Dominé" and "Vegetable Man" characterizing the beginning and the end of Syd's Floydian era.
LOVE YOU is a song recorded by Syd in 1970. It's included in "Barrett", the second solo album of his.
Every single note in these two CD's has been expressed with love. Love shown by the artists who took part by arranging Syd's music in their own way.
LOVE YOU – a tribute to SYD BARRETT will be released by the prestigious English label Gonzo Multimedia on the 6th of January, 2021. 75 years exactly from Syd's birth.
Dario Antonetti: musician from 1984 to today with Kryptästhesie, Gli Acidi Tonanti, Effetto Doppler, Inossidabile Orchestra Valsecchi, La Svolta Psichedelica, La Forma delle Nuvole. Producer of The Vegetable Man Project (a tribute to Syd Barrett focused on the song "Vegetable Man". Lots of artists from all over the world took part and rearrange the song in their own way. 6 CD's and a 10" vinyl EP were released betwenn 2002 and 2009 ).
Nino Gatti: for 40 years historian, expert, biographer and collector of Pink Floyd. He has published fanzines and collaborated with various publications both in Italy and abroad. Author of several books about Pink Floyd and their members, both in his own name and together with The Lunatics. His activity also covers many web site devoted to the band.
CD 1
1 - TERRAPIN - ANDREA ACHILLI (Italy) 2'59" 2 - NO GOOD TRYING - LUNA PARK (France) 3'15" 3 - LOVE YOU - EUGENE (Italy) 2'24" 4 - NO MAN'S LAND - HUMUS (Mexico) 2'27" 5 - DARK GLOBE - BLUEMOSAIKO (Italy) 2'26" 6 - HERE I GO - MAX ZARUCCHI (Italy) 4'52" 7 - OCTOPUS - SHERPA (Italy) 4'02" 8 - GOLDEN HAIR - IN THE LABYRINTH (Sweden) 7'41" 9 - LONG GONE - BARYOGENESIS (Italy) 3'27" 10 - SHE TOOK A LONG COLD LOOK - ALANJEMAAL (Italy) 5'55" 11 - FEEL - HIS MAJESTY THE BABY (Italy) 3'37" 12 - IF IT'S IN YOU - HENRIETTA AND THE FIVES (Italy) 3'45" 13 - LATE NIGHT - DUNCAN MAITLAND (Ireland) 3'39" 14 - OPEL - GALERIE 65 (USA) 5'43" 15 - DOLLY ROCKER - THE MAN IN THE HIGH CASTLE (Italy) 3'16" 16 - WORD SONG - QUARTO STATO DELLA MATERIA (Italy) 4'37" 17 - SWAN LEE - HIBUSHIBIRE (Japan) 4'07" 18 - LET'S SPLIT - MICHELE GENTILE (Italy) 2'54" 19 - TWO OF A KIND - DAVE HARRIS & ZEUS B HELD (UK) 2'29" 20 - ASTRONOMY DOMINE - BORIS SAVOLDELLI & UMBERTO PETRIN (Italy) 4'01"
CD 2:
1 - BABY LEMONADE - ST 37 (USA) 6'08" 2 - LOVE SONG - LA FORMA DELLE NUVOLE (Italy) 3'31" 3 - DOMINOES - SULA BASSANA (Germany) 5'46" 4 - IT IS OBVIOUS - STEREOKIMONO (Italy) 3'30" 5 - RATS - PHOSPHENE (UK) 2'14" 6 - MAISIE - THEEUNFORESEEN (Belgium) 4'04" 7 - GIGOLO AUNT - THE AIRWAVES (Sweden) 5'10" 8 - WAVING MY ARMS IN THE AIR / I NEVER LIED TO YOU - LUCA RAIO (Italy) 5'28" 9 - WINED AND DINED - KABLE (USA) 4'04" 10 - WOLFPACK - KEEPER OF ATLANTIS (USA) 5'37" 11 - EFFERVESCING ELEPHANT - BOTTI & PAVONI from GREENWALL (Italy) 3'02" 12 - BIRDIE HOP - TRESPASSERS W (The Netherlands) 3'14" 13 - LANKY PART 1 - ALFREDO LONGO feat. SEBA PAVIA 4'31" 14 - MILKY WAY - MEN ON THE BORDER (Sweden) 5'10" 15 - BOB DYLAN BLUES - JOSS COPE (UK) 4'17" 16 - RHAMADAN - MORNING SCALES THE MOUNTAIN (USA) 9'43" 17 - VEGETABLE MAN - NICK BENSEN (USA) 3'59"