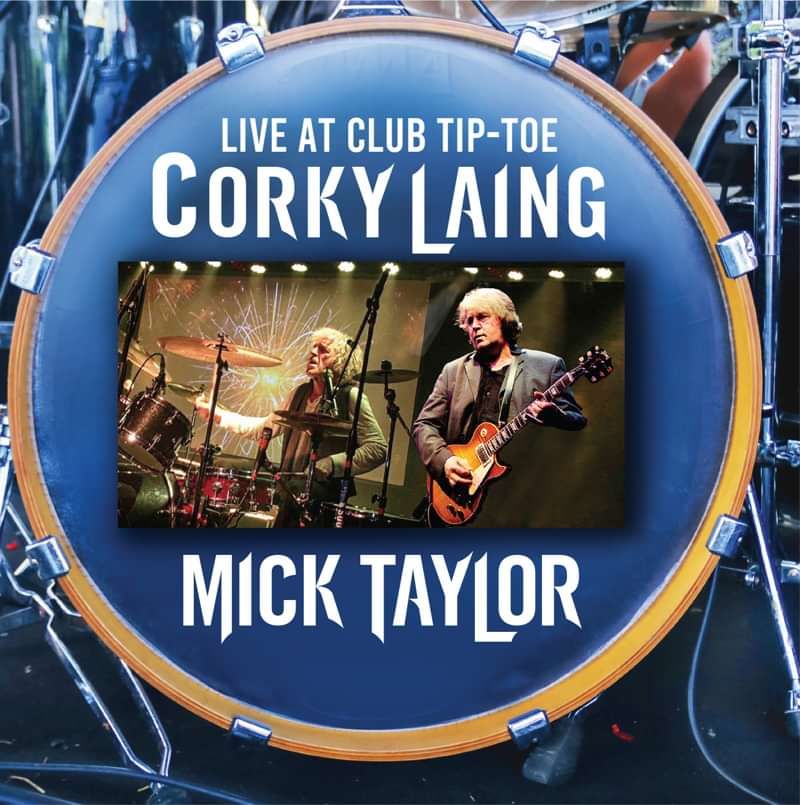 Mick Taylor and Corky Laing - Live at Club Tip Toe CD
Mick Taylor and Corky Laing - Live at Club Tip Toe CD
This product is on pre-order and will be released Feb 26
In the late 1980s I lived in Westport, Connecticut. I was between jobs and bands, and so were many of my contemporaries. Luckily many of them lived close by, or would otherwise frequent the area, and I was able to put together a number of "Corky Laing All Stars" shows in 1988 and 1989. The musicians would change from show to show, however Mark Clarke (ex Uriah Heep and Mountain) played bass quite frequently and Roger Ball (ex Average White Band) was often on saxophone. At one time or another, I was happy to be joined on stage by the likes of Levon Helm (The Band), Meatloaf, Felix Cavaliere (ex The Rascals), and Mick Taylor (ex Rolling Stones).
I had no idea that someone had made bootleg recordings of the Corky Laing All Star shows in early June 1998 that featured Mick Taylor, Mark Clarke, Lester Chambers (from the Chambers Brothers), Gerry Moll (an exceptionally talented local conga player), and myself, until those recently surfaced on the internet. I had met Mick at a mutual friend's house a few months earlier and was a little surprised, but definitely happy when he agreed to join one of my Corky Laing All Star shows at the Tip-Toe Club in Bridgeport, Connecticut.
I have been very fortunate having had the opportunity to work with some brilliant guitar players and I definitely consider Mick Taylor to be among the very best of those. Mick is one of those unique guitarists who plays the truth. There is a total honesty to his choice of notes. And my personal favourites are his blue notes. They are bluer than blue and as right as rain.
Those gigs at the packed Tip-Toe Club, which was basically just a neighbourhood bar, were a lot of fun. We were not a polished act, but we played fresh and jammed a lot. We had a list of songs that we called out randomly as the shows progressed. Mick had indicated to me that he would not be too keen on playing "Can You Hear My Knocking," but since it was one of my favourites, I couldn't resist - and I knew that deep down, he liked the song too. And sure, as soon as the percussion rhythms – Gerry on congas and me on drums – started the song, Mick jumped right in and took it home. The audience loved the Rolling Stones repertoire, but seemed equally appreciative of the rest.
You have probably heard many of these titles before, but in here, the notes are interpreted by one of the best blues guitar players around. Sometimes it takes a few minutes for a song to sit right, but there are musical gems here that I enjoy revisiting to this day. On the Cream numbers, it occasionally sounds like there are a few guitarists playing, but don't be fooled, it is just the superb talent of Mick Taylor. Because the gigs were recorded without our authorisation, the balances are not as good as they could be, but they do bring Mick's guitar upfront where it belongs. Unfortunately, the vocals suffer. However, I'm very glad that Mark Clarke's particularly excellent job on Theme From An Imaginary Western is audible.
These were good times and I'm thrilled to be able to share them with you!
Hope you enjoy!
CL
TRACK LISTING
Hi-Heel Sneakers | Laundromat Blues | Politiician | Red House | Crossroads | Leather Jacket | Lucille | Rocky Mountain Way | Money | Born Under A Bad Sign | Theme From An Imaginary Western | Sunshine of Your Love | Instrumental | Honky Tonk Woman | Mississippi Queen | Can't You Hear Me Knocking?