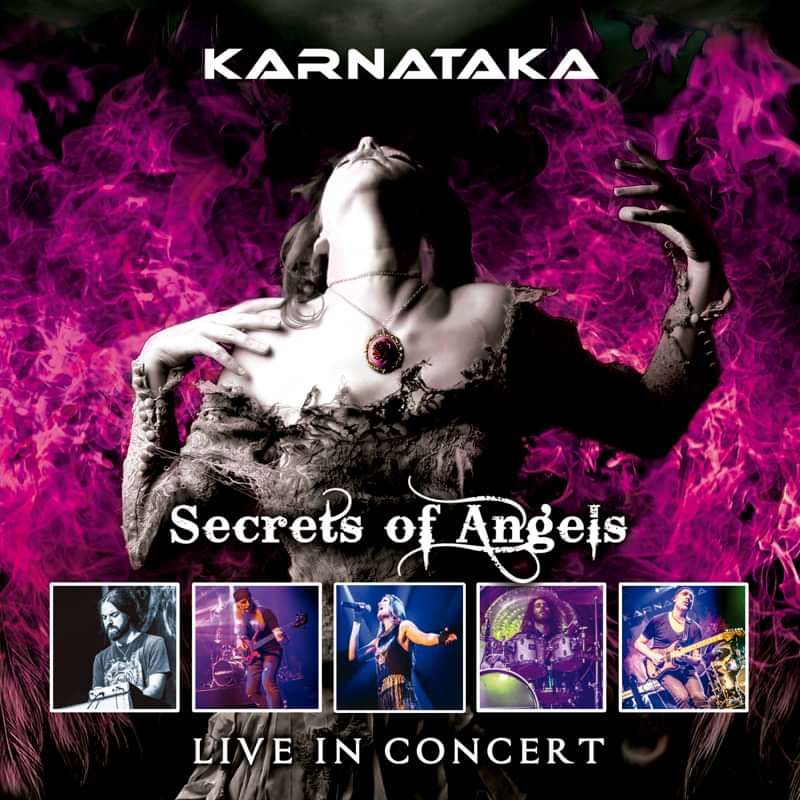 Karnataka - Secret of Angels
Secrets of Angels is the new and hotly anticipated album from Karnataka. Featuring eight brand new tracks and showcasing a more dynamic and symphonic direction, the new album propels the band to powerful and majestic new highs. Recorded at Peter Gabriel's Real World Studios and Quadra Studios in London the new album explores themes from despair, anguish and the futility of war to love across cultural divides and culminates in the 21 minute opus and epic title track, Secrets of Angels.
The album features guest appearances from Nightwish's Troy Donockley on uilleann pipes and whistles, one of Ireland's top young harpists Seána Davey and a string section from the Royal Philharmonic orchestra.
Karnataka rose to the forefront of the female-fronted symphonic progressive rock scene with the release of their landmark album Delicate Flame of Desire. Their follow up and critically acclaimed album The Gathering Light won best International Album at the World Prog awards.
The band features an international line up of world class musicians. The beautiful voice of enigmatic lead singer Hayley Griffiths (Riverdance, Lord Of The Dance), the virtuoso fretwork of Italian guitarist Enrico Pinna, the melodic driving bass of Ian Jones, the innovative and symphonic orchestrations of Turkish keyboard player Cagri Tozluoglu all powerfully driven forward by the dynamic drumming of French sticks man Jimmy Pallagrosi. Together they create a beautiful tapestry of sound that transcends musical boundaries and showcases the band's sublime songwriting and musicianship all of which have won plaudits from Radio 2's Bob Harris, Rick Wakeman and many others.
The band's powerful live performances have entranced and captivated audiences across the UK, USA and European mainland and also seen them perform alongside prestigious artists such as Robert Plant and Porcupine Tree. Karnataka will be launching the album with a full UK tour in March 2015.
REVIEWS
"Karnataka's 'Secrets of Angels' is a work of art. This album is incredible…Special mention must go to Hayley Griffiths. Have you ever sat down and written lyrics songs and vocal for a progressive symphonic rock album? I thought not. As you will discover this album is exceptional in every facet so to have created such a masterpiece at her first attempt is truly amazing. Great credit to all artists appearing here to create such an epic piece of work from the ground up – so good you would never know this was a first album written together. Never, ever know. …These people have given everything to this album. It is superb and a wonderful illustration of their abilities as musicians, composers, technology wizards and most importantly human beings. For that is a very important ingredient in this band - they know it is their job but they to know how we feel when we receive something very special from a band. That is our bond, the special sound that these guys make - like no other - that does it for us all.
This album will have wide appeal – I found some Clannad in there, some Within Temptation, Renaissance, Kirsty MacColl, Ronan Hardiman, T'Pau, M83, Danny Elfman and Marillion; taking nothing away from the fact that this is a Karnataka album and only a Karnataka album – a new powerful symphonic sound yes, but exquisite melodies as is their trademark.
How many times have you followed a band that produces wonderful melodic songs and then change and you never want to listen to them again? Not this band. Not this album." www.rockreport.be
" 'Secrets Of Angels' is a triumph; an album that runs the full gamut of emotions and leaves no
stone unturned in its quest to powerfully move anyone who takes the time to sit down with it
and listen. Hands down, the band's finest hour, and a validation of the belief and skills of the
new-look band." – By Dave Cooper, Echoes and Dust
"Secrets of Angels is to The Gathering Light as Delicate Flame of Desire was to The Storm, that is to say, an exponential improvement in songwriting, arrangements, production and -- most notably -- vocal work that is nothing short of amazing. This project was clearly written and produced to take full advantage the band members' virtuosity as well as Hayley Griffith's extensive vocal training, broad range, and diversity of styles, as well as a keen ability to deliver layered self-harmonies while retaining the power and clarity a lead vocalist must have. With a series of UK dates planned to support this new album, Karnataka will clearly be a tour de force. We hope that a DVD will be produced on tour to make these live performances accessible to enthusiasts worldwide." (5 Stars) Musical Discoveries
"To put it short, this is an exceptional, near-perfect release from Karnataka. Very accessible (could even be used as toe-dipper into prog for Celtic music crowd), but very refined, flowing with creativity. 4,5 stars from me, rounded up to 5 and I think we have a very strong contender for the-best-album-of-the-year throne." Prog Archives
Road to Cairo | Because of You | Poison Ivy | Forbidden Dreams | Borderline | Fairytale Lies | Feels Like Home | Secrets of Angels