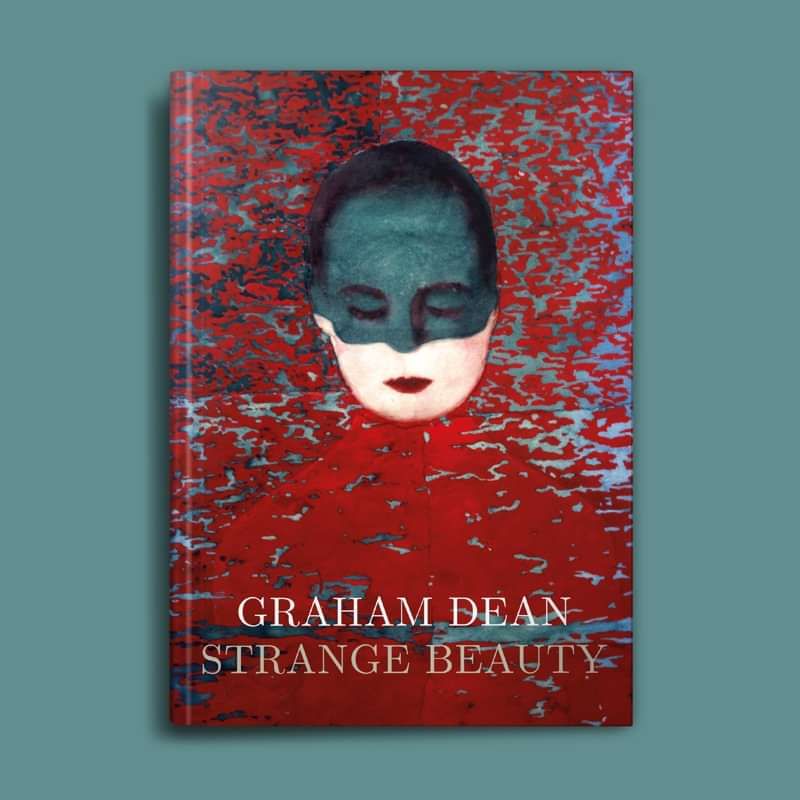 Graham Dean "Strange Beauty" Hardbacked Signed Edition and DVD
Graham Dean "Strange Beauty" Hardbacked Book with DVD and Signed.
Renowned British artist Graham Dean's new book "Strange Beauty," features many of his celebrated works along with unreleased paintings. This Hardbacked Book comes with a DVD that includes an unreleased soundtrack by music legend Peter Gabriel and is signed by Graham Dean.
Graham Dean transmits an essential part of the emotions and psychological states of his characters whether they be beautiful models, athletes, crazy bondage enthusiasts, identical twins, people with skin imperfections, – all using their bodies as vehicles of expression.
He is essentially a painter of identity. But more than the identity of the body, it is the identity of the soul as evoked by these sumptuous watercolours. Like Egon Schiele who was researching in mental hospitals to study his subjects, Graham Dean loves these oddball characters who voluntarily use their bodies often in extreme situations. His images are recomposed in a creative alchemy, mixing people, body parts and time itself. Although the works are representational, they escape the illustrational to reach a universal form from something deeply personal. He has also used buildings, mysterious ships, confessionals in churches, forests, trains, to enhance these atmospheric moods.
Using a technique he calls "reverse archaeology," Graham Dean re-invents the traditional uses of watercolour resulting in a unique technique. Contrasting layers of paint are applied separately on thick, handmade paper from Southern India. Each sheet has undergone a process of tearing and overlapping to create a final composition, this corresponds to the multiple layers of the epidermis which protects the human body. The process is organic and cyclical, the paintings appear fragmented and destroyed using sections (front and back) that lead to a renaissance in the form of a new composition. Adapted from an article by Galerie Maubert, Paris. September 2011
Featured on the DVD, "Undercurrents" is a 14 minutes instrumental piece that was written and recorded by Peter Gabriel in 1981, originally as the ambient soundtrack for a short film made for an exhibition by artist Graham Dean. Peter allegedly recorded the music in one day. This is his first soundtrack, ahead of "Birdy," "The Last Temptation of Christ" and "Long Walk Home." Peter supplied the music, in return for an original painting by Graham. This was Graham's second film funded by the Arts Council. Dean, a pioneer in early video technology, shot "Undercurrents" on 16mm film featuring a series of images and live action footage and then manipulated. The film was shown on "Riverside" a BBC arts TV show.
Graham said about the recording of the soundtrack, "We were supposed to go into the studio for the afternoon for a few hours, but we ended up leaving at 6.00 am the following morning."
When the people at Real World were looking for the master tape for "Undercurrents" they actually found the multi-tracks after 40 years! The music was re-mixed at the end of last year in the main studio at Real World and the remix version sounds AMAZING! The music has been described as dark and atmospheric, even 'Birdy'-like at times."
In regards to his new book Graham explains, "I have been painting and exhibiting since 1973 so naturally I had a large body of works to choose from when making a selection for this book. I was keen to include some of which have never been published before alongside the latest paintings, several fresh out of the studio. All the paintings are watercolour or watercolour with a few added elements like dye or stained glass paint though I'm now reluctant to use anything else but watercolour. The papers are either Arches or an Indian rag paper from Southern India. The rags which make up the Indian papers when pulped are recycled garments -mostly western t-shirts I've been told."
In addition to "Undercurrents," there are other films on the "Strange Beauty" DVD with David Rhodes (PG's longtime guitarist and Random Hold guitarist) providing the soundtracks. Graham also worked on the official promo videos for Peter Gabriel of "Solsbury Hill" and "In Your Eyes" which are included on the DVD.
DVD Features: "Waterproof" 2014 "Painting Music" 2011 "Solsbury Hill" 1977 "In Your Eyes" 1993 Paintings 1987-1990 Interview "Undercurrents" 1981
WATERPROOF 2014 Waterproof was made with the intention of providing a background to how I work or at least to put into context. In the studio I usually have several paintings all in different stages of completion and as is often the case of them having a life of their own due to the amount of water I use. I've tried to get this across in the film, these ideas of controlled chance, experimentation in terms of colour and form. Nothing is too straightforward and I avoid the narrative as much as I can. The original soundtrack is by my long term collaborator David Rhodes and the camerawork, another collaboration is by Joe Murray.
PAINTING MUSIC 2011 In 1n 1984 I asked David Rhodes to produce a soundtrack to a film idea I had been playing around with. I had already used Random Hold on my very first film 'Copy' in 1979, then Peter with 'Undercurrents' in 1980. But this time I wanted to merge the music and the images so they became equally dependent on each other, to create an interesting hybrid. Also to get really close to the paint, to the mark making, as if the camera was my eye seeing what I was seeing as I made a painting. It was going to be visceral, sensual, full of colour and hopefully exciting. I think we succeeded and I'm surprised that it still stands up to this day.
SOLSBURY HILL 1977 Peter rang me up very late one evening in London to see if I would be willing to co-direct with Peter and co-ordinated by Gerry Chater, an excellent video editor, a new video for 'Solsbury Hill', which was to be re-released. We didn't have much time and we were booked into studios in London in that fallow period between Christmas and New Year. It was thinking up ideas on the spot time. I wish we had more time, it was fun to work on but it was re-edited with new material a few years later, this is the second edit.
IN YOUR EYES 1993 I have mixed feelings about this one as it could have been much more than it was. The record was in the American charts but there questions about its chart placing from the record company who thought it may go down and were reluctant to pay for a video I had a small modest crew of the three of us booked and ready to go when Peter rang up the night before to say that the single had gone down in the charts so the record company pulled the plug. I managed to persuade Peter to go ahead with an experimental day of filming just to see what we could come up with –I'd already done a lot of research and had a storyboard of ideas. Peter had only just bought the Real World site in Box – it was basically a warehouse and outbuildings by the railway track. It even had an entrance barrier with a hut which we had to navigate. This was also my first introduction to the first of Real World's employees – Mike Large and Dave Taraskevics, I took to them immediately and this was my first indication that Peter had a great antennae to get the right people around him. Only a quarter of the video was made that day which is a shame as there were some good ideas which could have been realised. Many years later it re-emerged with new footage but including my original material – again I had nothing to do with the final edit.
UNDERCURRENTS 1980 This was only the second film I ever made. It was to accompany a large touring show of my work based around the themes of water and skin. I managed to persuade Peter Gabriel, probably after a few glasses of a fine wine and the promise of a painting, to compose a soundtrack to it. This I think was to be his very first film soundtrack albeit on a modest scale and only 15 minutes long and we had a rough cut of the film to work to. Peter booked us into Crescent studios in Bath for what we thought was going to be a late afternoon to evening but we eventually emerged at dawn the following day. It was finished for the exhibition tour but also I was pleased that a then arts programme on BBC 2 called 'Riverside' showed a clip and did an interview with me, all live. I even think they included a massive painting from the show in the studio.
"Undercurrents" (Peter Gabriel) (13:38) Recording date: 1981 Recording location: Crescent Studios/Bath Performed by: Peter Gabriel First official release: 27th June 1981 - Graham Dean Exhibition at South Hill Park Bracknell