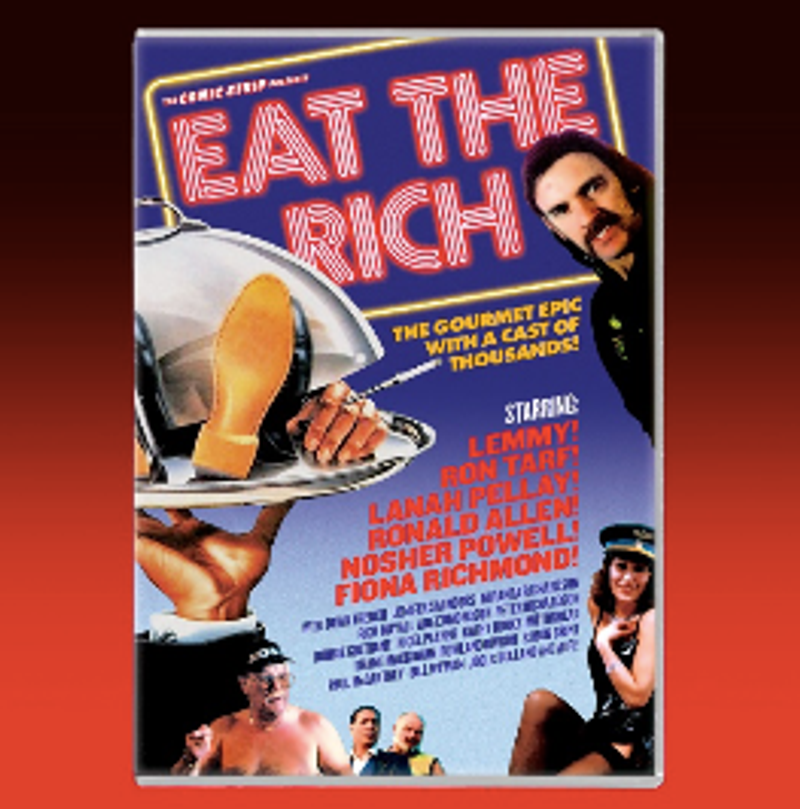 Comic Strip Presents: Eat The Rich 2DVD
Eat the Rich is a 1987 British black comedy film directed by Peter Richardson. A co-production between Channel Four Films, Iron Fist Motion Pictures and Michael White Productions, it features cast members from the popular television series The Comic Strip Presents....
The film stars Lanah Pellay, and Nosher Powell as the Home Secretary, and includes cameos from a number of well-known figures, including: Miranda Richardson and Nigel Planer as vile DHSS clerks, Robbie Coltrane, Rik Mayall as a union boss, Paul McCartney, Shane MacGowan, Jennifer Saunders, Jimmy Fagg, Kathy Burke, Koo Stark, Dawn French, Bill Wyman, Jools Holland, Hugh Cornwell, Adrian Edmondson, Angela Bowie, and Lemmy.
The film begins in a high-class London restaurant named 'Bastards' where the protagonist, Alex (Pellay), is a waiter. Subject to the upper-class customers' daily contempt and disgust, Alex is eventually fired for being obnoxious and rude to the clientele. After witnessing a terrorist act on an embassy, he robs a benefits office and goes on the run with his new friend.
Meanwhile, Nosher Powell plays the Home Secretary, a menacing, beer-swilling, fornicating, lovable lout who has his own no-nonsense way of dealing with trouble, usually with his fists. He is the darling of the voters, the press, and the gorgeous Fiona (Fiona Richmond), a glamorous KGB agent. He was also the one who ended the terrorist situation that Alex witnessed earlier in the movie. However, Nosher has enemies, including the sinister Commander Fortune (Ronald Allen), who plots a peoples revolution with a difference, and General Karprov (Dave Beard) and Spider (Ian Kilmister), who plot to derail the Home Secretary's campaign of becoming Prime Minister. After assembling a four-person team of would-be anarchists, Alex returns to 'Bastards' and lays waste to the clientele and staff. He begins serving them up to other rich people in their new restaurant, 'Eat the Rich'. When Commander Fortune and Spider find out about these changes to the menu, they formulate a plot to get rid of the conservative Home Secretary for good.
Oh please let real life imitate art.
Track Listing:
Disc 1 – Eat The Rich Original Master Disc 2 – Eat The Rich Director's Cut Bonus Features: Eat The Rich – Behind the Scenes Photo Gallery Trailers: Bullshitters | Bad News | Fistful of Travellers Cheques | Star Over Stella Street | The Hunt for Tony Blair | 5 Go to Rehab