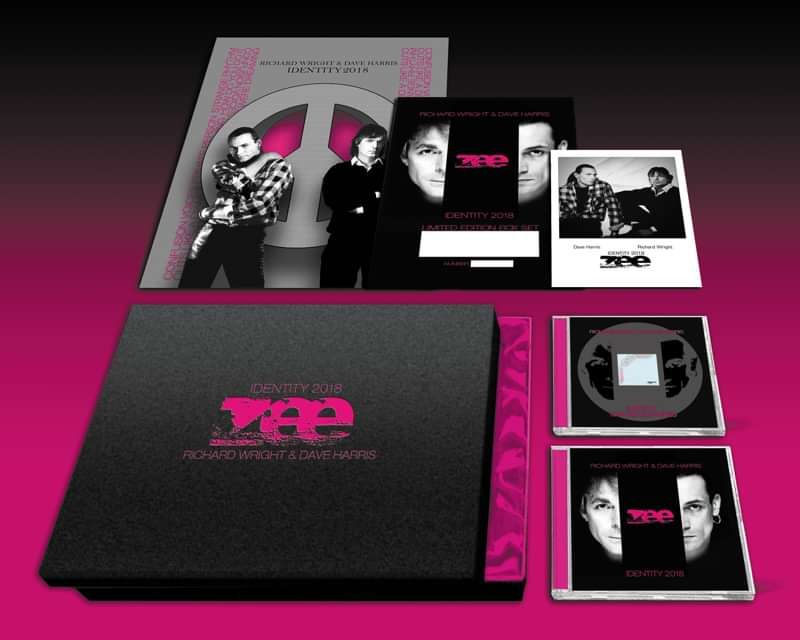 Zee: Identity Box Set
Signed (by Dave Harris) and numbered certificate.
Remastered original CD album inc bonus tracks CONFUSION VOICES PRIVATE PERSON STRANGE RHYTHM CUTS LIKE A DIAMOND BY TOUCHING HOW DO YOU DO IT SEEMS WE WERE DREAMING
bonus tracks
Confusion 7" edit Eyes of a Gypsy 7" Confusion 12" re-mix Eyes of a Gypsy 12"re-mix
CD of unreleased mixes and demo's: Cuts Like a Diamond (early mix / demo) Private Person (early mix / demo) Strange Rythm (early mix / demo) Voices (early mix / demo) Confusion (early mix / demo)
Reproduction Press Release A4 lyric book with artist notes. Reproduction promotional 10" x 8" photos
One of the most intriguing pop music partnerships of the eighties makes it's return – RICK WRIGHT, one of the founder members of PINK FLOYD and who played keyboards on their multi-million selling albums joined forces with DAVE (formerly DEE) HARRIS, best known to music fans as the former singer and guitarist with electro-funk band Fashion. The two, collectively known as ZEE's version of their album, IDENTITY is to be released this year. The album which was recorded at WRIGHT's home studio and Utopia Studios in North London in 82 / 83, utilises the Fairlight Computer, which has the ability to recreate the sound of any musical instrument. The new partnership was born out of a Greek holiday that Rick Wright had in 1981. It was there that he met Raf Ravenscroft the well-known saxophonist session musician whose playing graced Gerry Rafferty's huge hit "Baker Street". "Raf was interested in forming a band, and we got talking in the way musicians do." RICK said, "When we got back to England we met again, along with several other musicians, including DAVE HARRIS. We had some rehearsal time at a studio in Battersea but we weren't getting anywhere, mainly because no one had any material." At that time DAVE HARRIS has just left FASHION – "I supposed you could put it down to the usual 'musical differences' – and was looking for fresh ideas. "My decision to leave Fashion was good for both the band and myself, but I really needed to work with someone so that we could bounce ideas of each other" DAVE says. "It became more and more obvious that RICK and I would work well together, and eventually that is what happened".
The other guys who had been initially involved understood that too, and in the end it was RICK and myself writing together. RICK and DAVE started working on the 'Identity' album as far back as September 1982, initially at RICK's small studio in the country, before moving on to Utopia six months later to do the overdubs.
Unfortunately certain legal problems had to be ironed out first – and then there was also the question of mastering the Fairlight: "We spent hours and hours just experimenting with it at first" RICK recalled. "The great thing about the Fairlight is that every time you go back to it you learn something else. We had to get control over it though because it would have been very easy just to have ended up making funny noises. We spent several weeks sequencing and scripting everything but it was all worth it in the end." He added "For me it is exciting working with DAVE because there were things that he was doing that I had not done before and vice versa. I think that ZEE has given us musical opportunities that quite frankly neither of us were able to explore in our previous groups."
DAVE HARRIS says "when we started recording it, we didn't have any pre-conceived ideas of how it should be done, and we certainly didn't try to create a sound. The whole thing just evolved quite naturally". "There will probably be a lot of PINK FLOYD fans interested in what RICK had been doing, and equally I'm sure that a lot of Fashion's followers will want to know what I've been up to".
Finally Zee is getting the deluxe treatment so many other seminal back catalogue releases have had done.