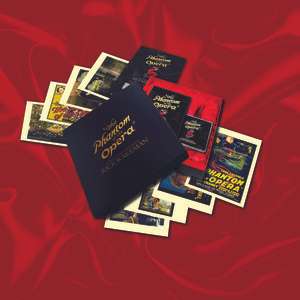 Rick Wakeman: The Phantom Of The Opera Box Set
For the first time on DVD the Lon Chaney silent movie "Phantom of the Opera" with the Rick Wakeman's Soundtrack together in a Limited Edition Box Set with a signed and numbered certificate.
The legendary 1925 Lon Chaney film is brought to life with a specially commissioned Rick Wakeman soundtrack. This is the first time this version of the film has been issued on DVD, as such the images have been fully restored and the sound track lovingly remastered.
The DVD also has several bonus features;
Rick Wakeman commentary Christopher Lee introduction Rick and the Phantom – featurette Originally trailer
The soundtrack double CD is the original Rick Wakeman unedited soundtrack and contains the original mixes of the songs which are different to what eventually appeared on his album "Phantom Power".
Special Limited Edition boxset containing:-
Single DVD (NTSC Region 0) Double CD Signed by Rick Wakeman and numbered certificate 2 x Reproduction Lon Chaney 10˝ x 8˝ photos 4 x A4 Reproduction "Lobby Cards Taken from the original artwork