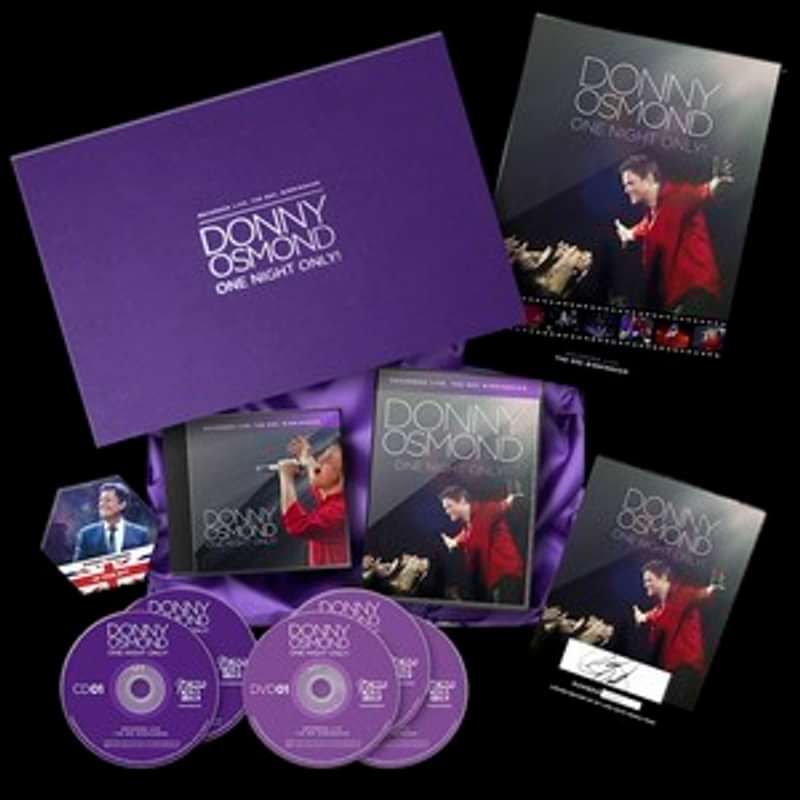 Donny Osmond: One Night Only Box Set
A deluxe box set celebrating Donny Osmond's February 2017 performance at the Birmingham NEC. Signed & numbered, limited to 1000.
The set includes:
Limited Edition Triple DVD (Region 0, NTSC - this will play worldwide)
Double CD
Signed and Numbered certificate

24 page, full colour book featuring all previously unseen photos taken on the UK dates.

Replica tour pass
In 2017 Donny Osmond toured the UK playing in Arenas in; Manchester, Glasgow, Brighton, Bournemouth, Nottingham, Birmingham and two sell out nights at the legendary Hammersmith Apollo, London. The tour was very special to Donny, he has has described it as, "This tour was definitely my favourite that I've ever done". As such it was decided to film and record the final date of the tour at the NEC Birmingham - One Night Only. From the filming and recording we have produced some very special editions.
"I have been touring, literally all my life, so it's quite a statement to say that this tour was definitely my favorite that I've ever done and I say that for many reasons.
First is the fact that I took the opportunity not only to play the new songs I recorded for my 60th album, but I also went back into my repertoire of fifty-four years in show business and performed so many of my classics from so many different genres of music. The Purple Card segment of this show was kind of risky for me because I just didn't know what the audience was going to ask of me, but it was fantastic!
Another reason I loved this tour was that the band, the dancers, the crew and everyone involved in not only putting this tour together, but executing it in such a fun and professional way, made it a magnificent experience.
However, by far the greatest reason was you, my loyal fans. You've been with me for so many years. Even through those years when it really wasn't cool to follow and listen to Donny Osmond. You've stayed with me through thick and thin and I thank you from the bottom of my heart.
It's been a long and winding road as Paul McCartney once said, and I really don't see the end of my road coming anytime soon. I hope you enjoy this final show of the 2017 UK tour. Here's to the next one.
Sincerely,
Donny