AntiQua
(Galileo Records GmbH, 2013)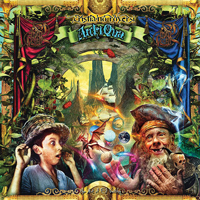 Italian progressive rock multi-instrumentalist Cristiano Roversi has released a stunningly beautiful album titled AntiQua. Everything in this recording is just right, from the exquisite artwork to the rich palette of musical instruments and vocalists, and specially the state of the art progressive rock.
Cristiano Roversi mentions the great Anthony Phillips as inspiration and the album has a flow similar to Anthony Phillip's albums. Roversi plays grand piano, synthesizers, mellotron, Hammond organ, 12-string, classical and electric guitar. He creates magnificent and delicate passages, with a mix of symphonic sounds, cinematic ambience and superb melodies.
Although most of the album is instrumental, there are a few vocal pieces. The vocalists will sound familiar to fans of classic Italian progressive rock for a good reason. Guests vocalists include Aldo Tagliapietra of Le Orme and Premiata Forneria Marconi's Bernardo Lanzetti. Imagine Anthony Phillips collaborating with Premiata Forneria Marconi. Truly delightful.
Cristiano is a founding member of progressive band Moongarden and presently composes and plays keyboards for Mangala Vallis. This solo album was conceived "independent of market or stylistic pressures." AntiQua also includes guest performances by David Cremoni, Erik Montanari, Fabio Serra, Gigi Cavalli Cocchi, James Larcombe, Leonora and Mirko Tagliasacchi.
The CD fantasy artwork is pure beauty. I've seen some interesting CD booklets out there recently, but this piece of art by Ed Unitsky is first-class, colorful and diverse, with eye-catching artwork throughout the booklet, tray card and the disc itself. Eye candy for the prog fan.
CURRENTLY AVAILABLE FROM GONZO
AntiQua

CD - £9.99

Cristiano Roversi