Welcome to the Gonzo UK and European web site.

Your IP address indicates that you are browsing from: United States.

Although you can purchase from here in UK Pounds (£) you may wish to check out our US site with prices in $ at www.gonzomultimedia.com
Gonzo Latest News: 05/05/2012 LINK: A Conversation With Jon Anderson

Date Published: 5th May 2012
---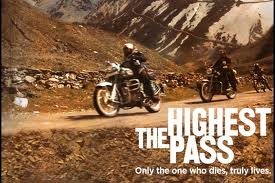 Mike Ragogna: Jon, there's so much to talk about, but let's start with the film
The Highest Pass
that you've contributed a couple of songs for -- the title track, "The Highest Pass," and "Waking Up." The movie is about following a modern guru. Jon, can you take it from there?
Jon Anderson:
Well, the movie was sent to me last year. I was very, very excited about the movie. It's about a dozen guys on their motorbikes who go to the highest point in the Himalayas. They're taken there by a guru in India, and he's a wonderful man. It's just the idea that these guys would try to get to the highest pass in the mountains of the Himalayas, it being a very spiritual place that they went to. It's the trials and tribulations of the motor bike riding in the mountains; it's pretty dangerous there. It's quite an interesting documentary and I just like the idea very much. Michael (Mollura) sent me some music to sing on top, so I wrote this melody and lyrics about how I felt about what the characters were going through and what we're all going through, to find a higher self.
MR:
And, of course, you personally are into spirituality.
JA:
Well, the movie is all about that. People find their spiritual selves as they ride up these crazy mountain passes on their motorbikes. They were very excited to do it and eventually thankful to do it and I think that comes through in the movie.
Read on...
Check out the Jon Anderson and Rick Wakeman page at Gonzo
Check out the Anderson, Wakeman, Bruford and Howe page at Gonzo